Why Is It Important To Use A USA Dropshipper?
Dropshipping is a great way to make revenue, but it involves a lot more than making money and selling products. In fact, if you want to find the most success with your business, it's essential to choose the right dropshipping suppliers that can provide fast and efficient service.
However, this can be challenging with the large volume of dropshipping suppliers you can find on the internet. To prevent any lost sales and decrease the time it takes for your products to get to customers, you'll want to check out our list of the 12 best free dropshippers in the USA.
Why Is It Important To Use A USA Dropshipper?
Sales are the lifeblood of any dropshipper business. That is why it's crucial to find a dropshipping supplier that can provide reliable and steady shipping for your products. Without this, you'll not only lose money but time as well because there will be no point in carrying out dropshipping if nobody wants what you're selling.
The best way to ensure that your dropshipping products have success online is by using free USA dropshippers who have years of experience doing just that. When done right, dropshipping allows businesses like yours to experience shorter shipping times, an easy return process on any items, better customer service, and the best shipping rates. Overall, US dropshipper suppliers will help you have a competitive edge against your competition.
Top USA Dropshipper Without Membership Fees
When choosing the right USA dropshipper, you want to ensure that they offer reasonable prices, stellar customer services, and they have a reputation that ensures they're the right fit for the job. Here are the top USA dropshippers you should consider for your business needs.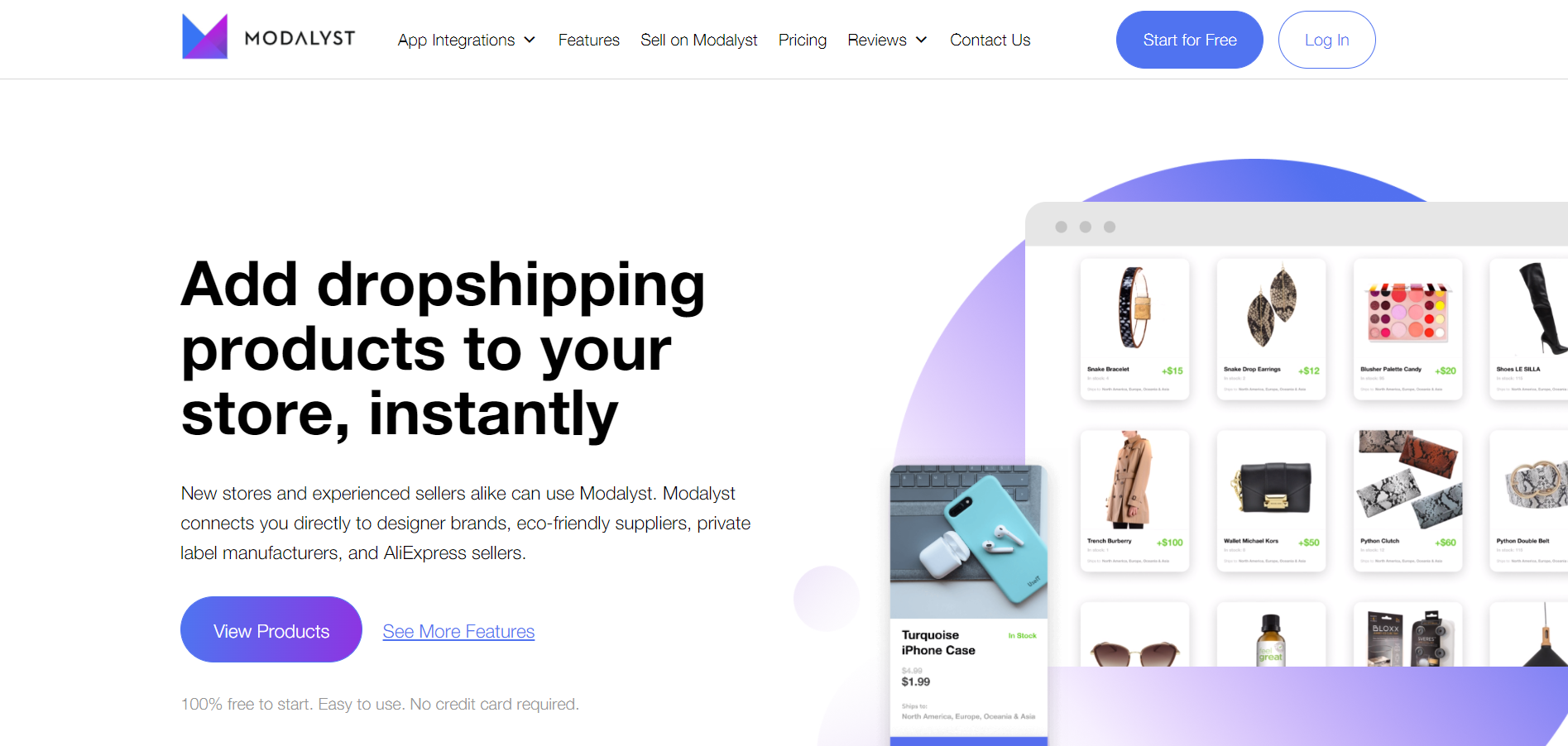 1. Modalyst
Modalyst offers tons of different products, making it easy for any user to list, source, and sell all through one place. While they provide more than 3,000 categories, they are most well-known for their fashion products.
The best part? They offer dropshipping without any membership fees. Modalyst is completely free as long as you have less than 25 items in your store, allowing you to easily integrate with the e-commerce platform of your choices, such as BigCommerce, Wix, and Shopify.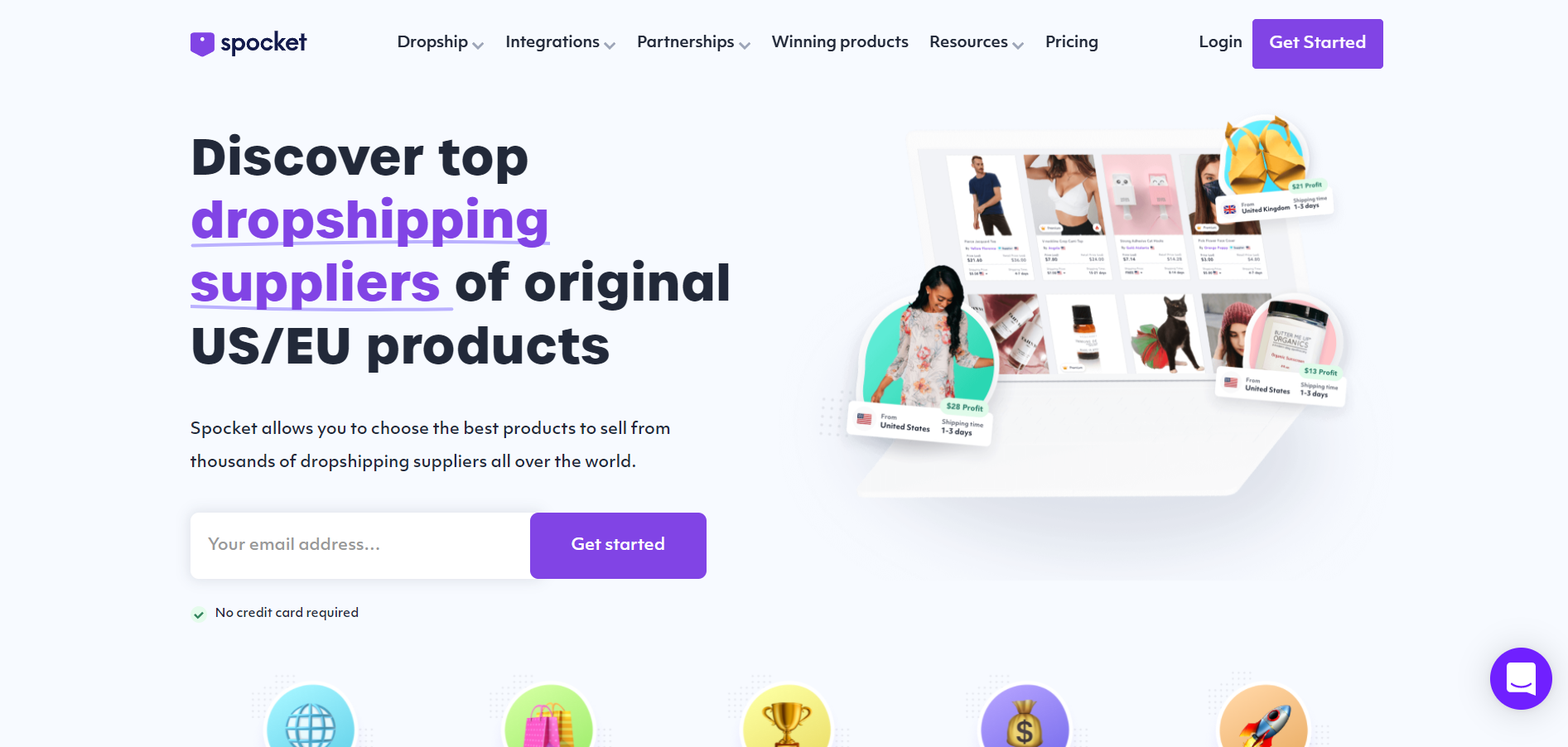 2. Spocket
Spocket dropshipping suppliers are known for providing dropship services that go above and beyond. They offer affordable international shipping, fast order processing times (in as little as two days), automated tracking numbers, real-time inventory updates to keep you in the loop, and worldwide fulfillment centers which allow them to ship your products almost anywhere.
Spocket allows you to try out the service without paying for 14 days. However, if you want to receive more significant discounts on your products and maximize your sales, you might want to consider choosing one of their paid plans according to how much business you have every month.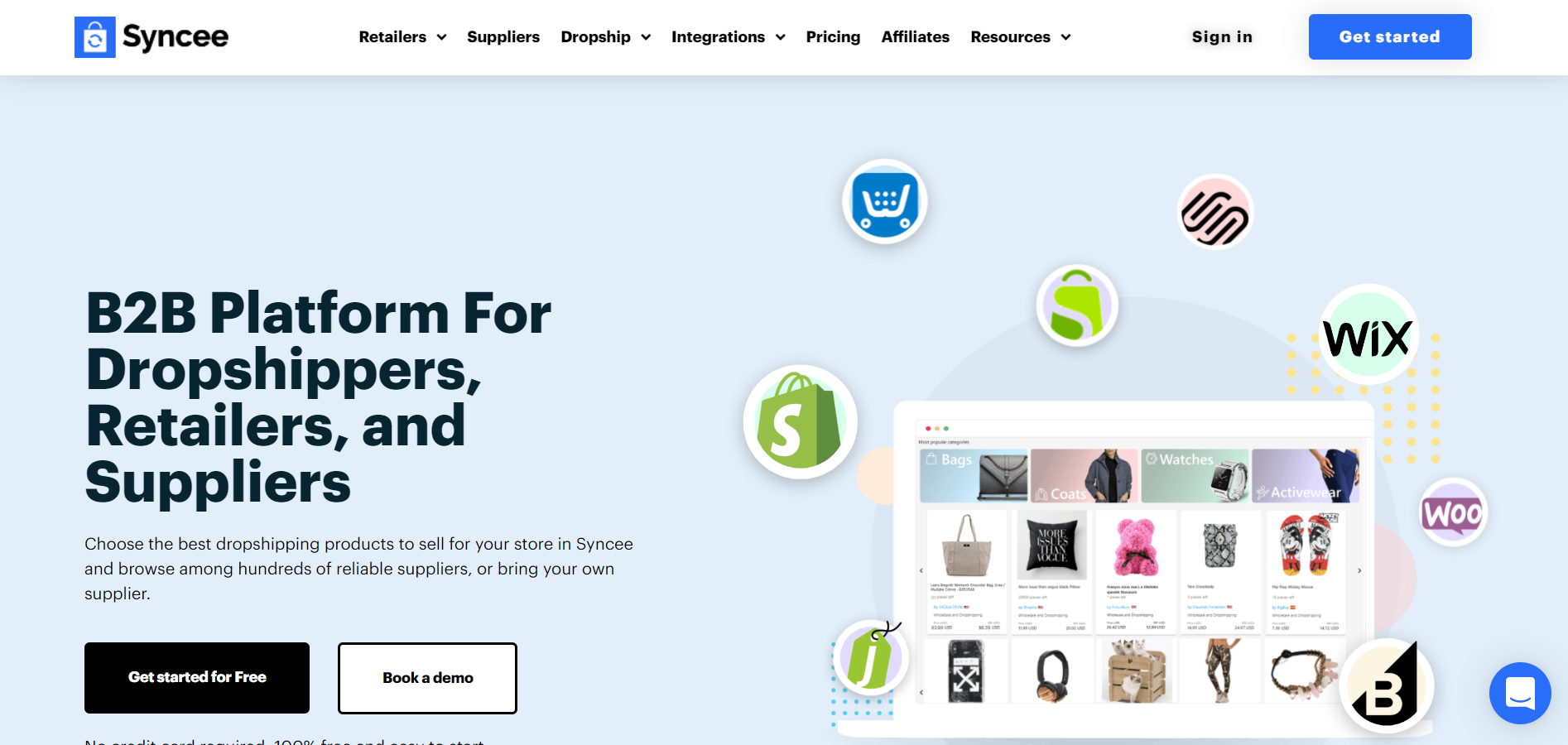 3. Syncee
Syncee offers an easy platform to find tons of US dropshipping suppliers in a few minutes, allowing you to narrow down your choices by filtering based on location, pricing, or the product type you're searching for. Once you find a potential supplier, it's easy to chat with them to ensure they're the right fit for the job.
Once you've chosen your supplier, you can sync them up to your online store on platforms such as BigCommerce, Shopify, and Ecwid. The platform is entirely free to use as long as you don't add more than 25 products to your store. If you need to add more, you'll want to look into their membership packages.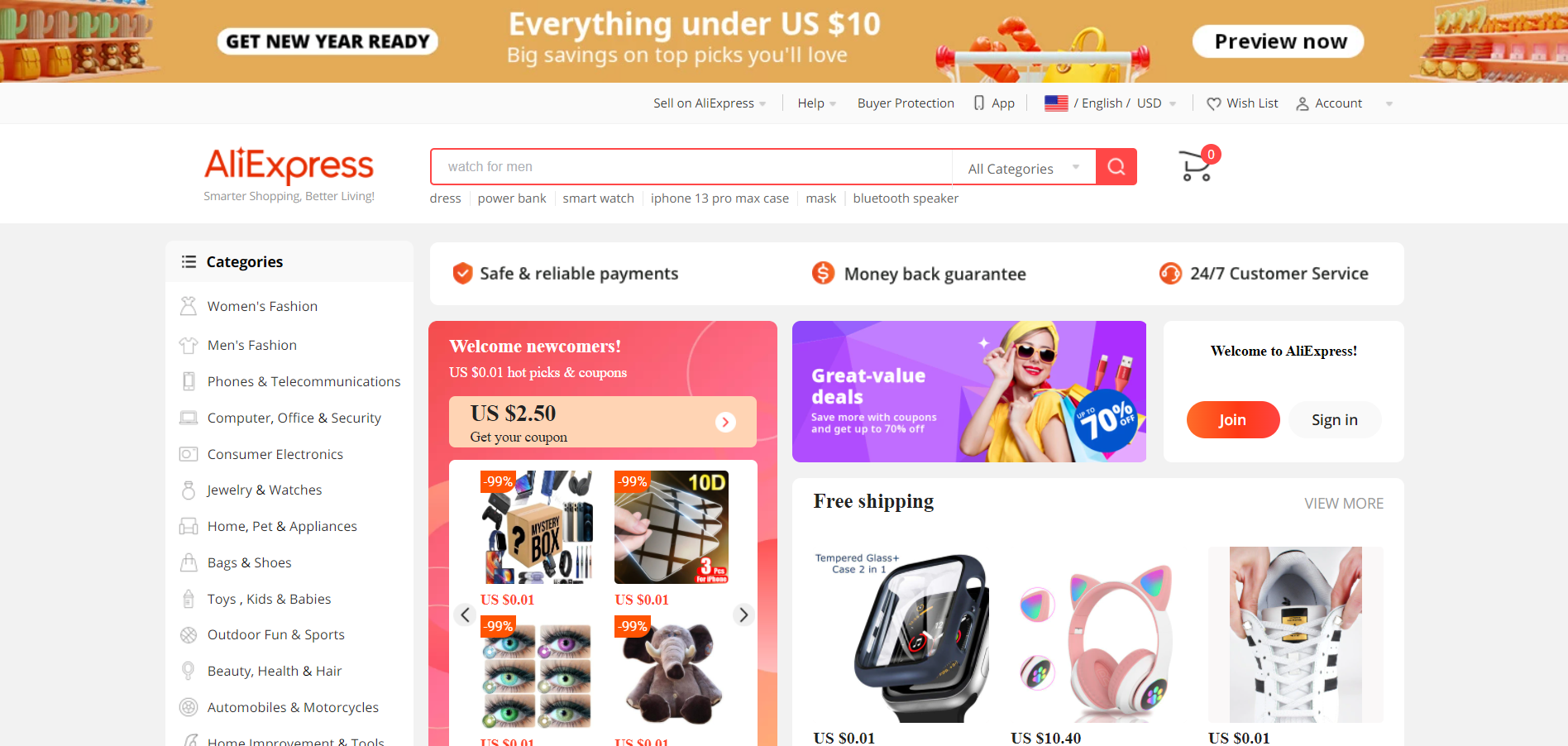 4. AliExpress
One of the most well-known suppliers on the market is AliExpress. While many of their products are from China, numerous USA suppliers have been added to the marketplace in the last few years. To find suppliers in the USA, all you need to do is filter out your search results to only show vendors that ship from the USA.
The best part is that AliExpress is entirely free to use. The only payment you'll have to incur is the shipping and product cost. This makes it very easy to find cheap products to make a higher profit margin on regardless of the niche you're looking for.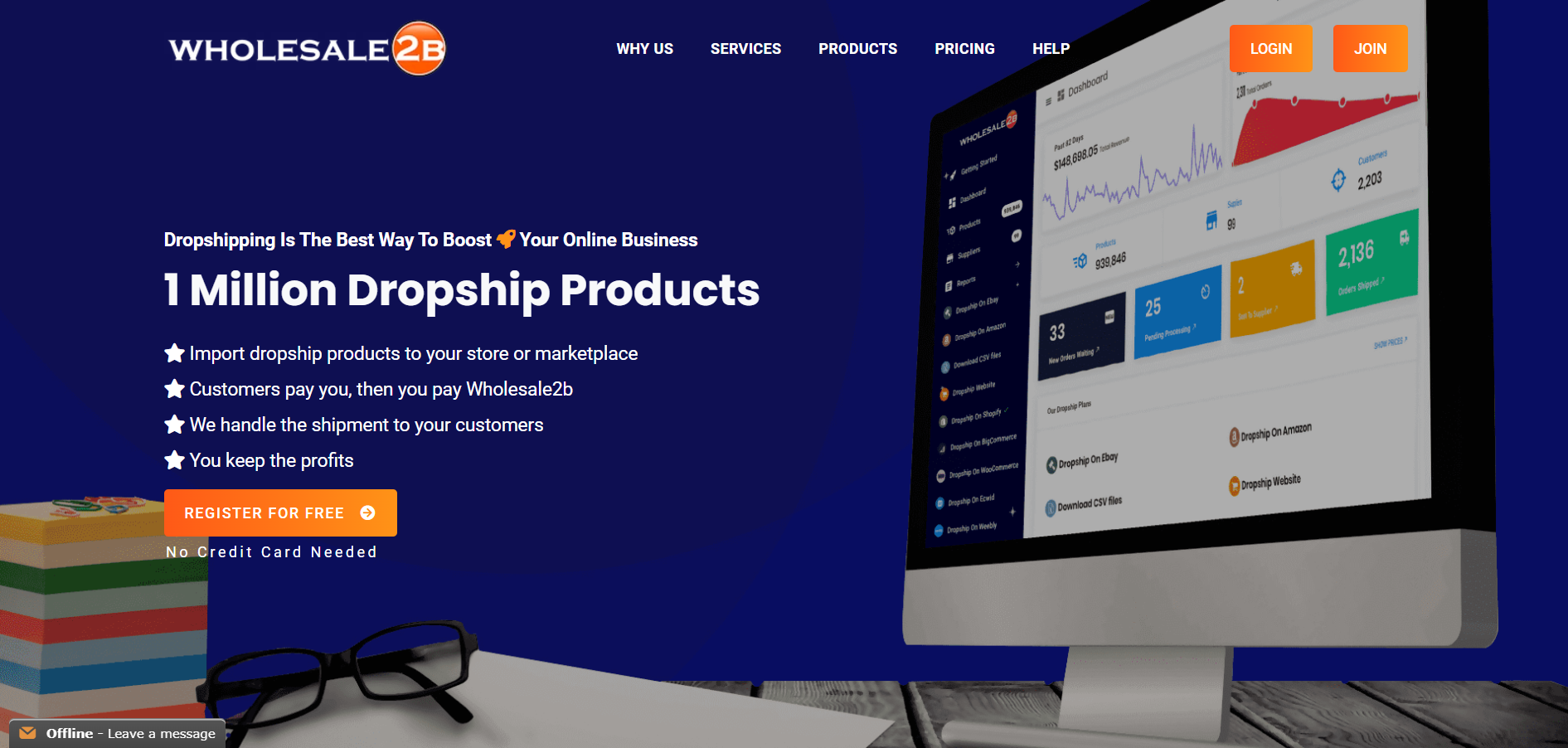 5. Wholesale2B
Suppose you're looking for dropshipping suppliers that offer a wide variety of products while still being able to integrate into all of the major eCommerce platforms such as Shopify, WooCommerce, Amazon, and more. In that case, Wholesale2b is the site for you. With more than one million products to choose from in over 100 different categories, it's easy to find what you're looking for without having to search through dozens of pages.
Wholesale2b offers automated solutions to your dropshipping needs, such as order processing, shipping tracking, and inventory updates. Plus, they offer a dropshipping service that's completely free to use, allowing you to check out suppliers and products at no cost.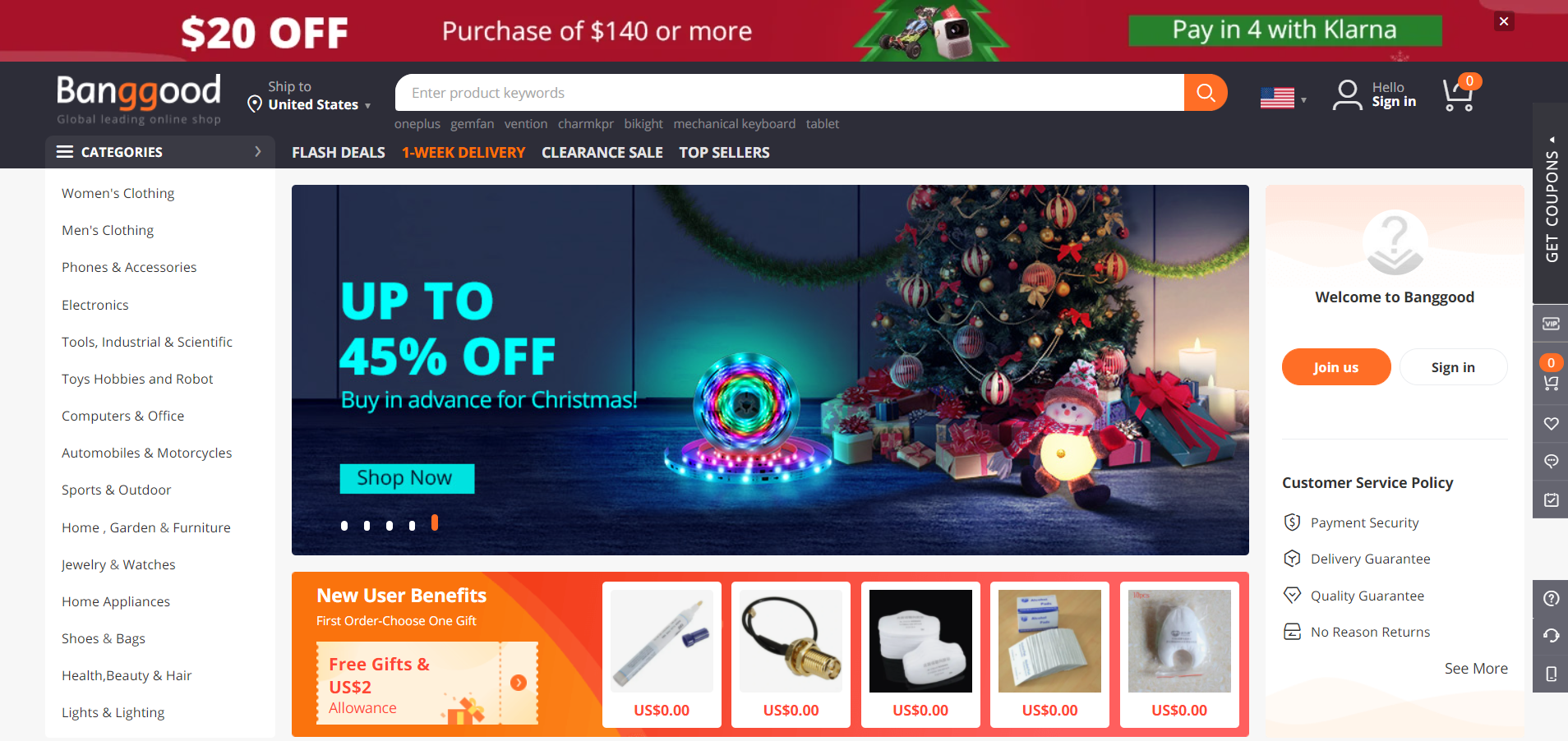 6. Banggood
Banggood is one of the largest dropshipping suppliers that you can find on the market. They offer dropshippers over 50,000 items to choose from in various categories such as fashion apparel and accessories, home décor, sporting goods, toys and games, health and beauty products, automotive parts and tools, and more.
You'll be able to download descriptions and images from the website, as well as receive exclusive discounts on products. In addition, with Banggood, you won't have to pay any monthly fees to order products. Instead, simply pay for the shipping and product costs to get started.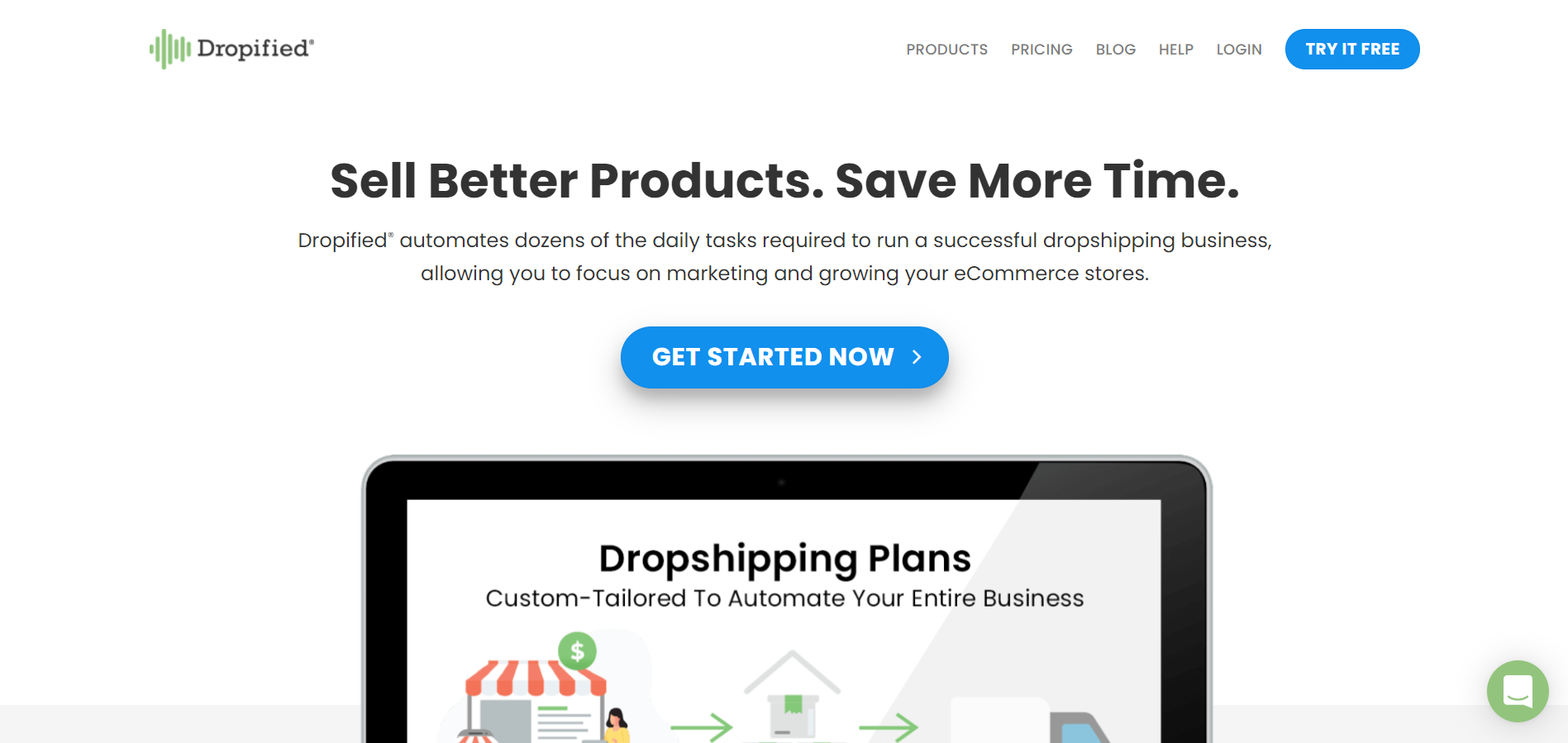 7. Dropified
Dropified is ideal for dropshippers who are looking to find suppliers that will package, ship, and store all products. With Dropified, you can fill your store with products quickly, easily, and without any costs or limitations. All you need is an email address to get started!
Once you've found the supplier of your choice, simply download their product catalogs directly from the Dropified app and add them to your store. From there, you'll be able to automate all of your orders and shipping directly through the platform. While they offer a 14-day free trial, you'll have to pay for one of their paid plans if you want to continue using their service.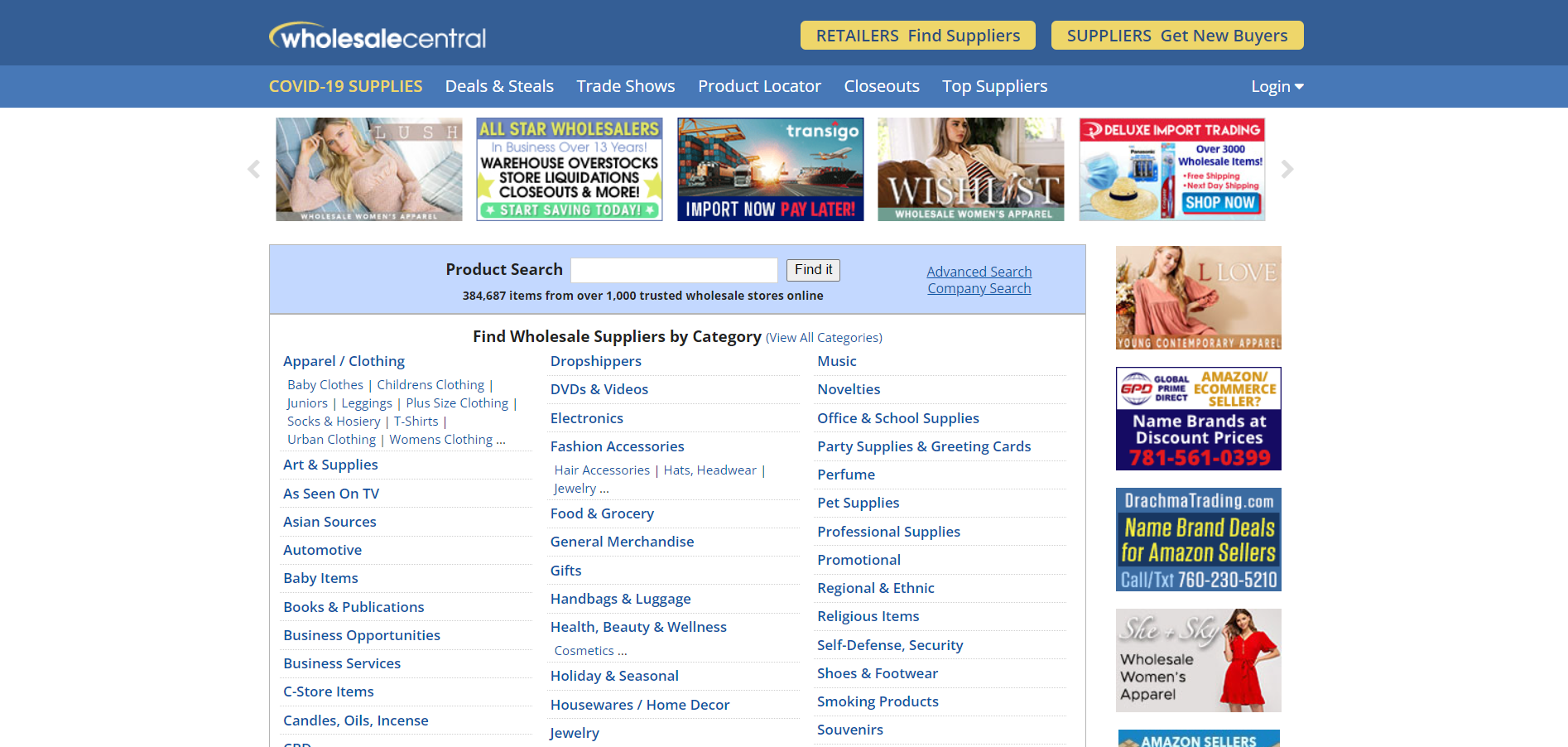 8. Wholesale Central
Wholesale Central is a very established supplier, offering a lengthy list of suppliers on their free directory. In addition, they're constantly adding new suppliers to their marketplace, allowing you to find the best dropship companies for your online store easily and quickly. Once you've chosen your ideal suppliers, you'll be able to contact them directly to start purchasing their products.
You won't need to pay any monthly fees to use their services. This means that you will have the ability to try out different dropshipping suppliers through Wholesale Central's free directory. Plus, they offer many other valuable features, such as access to manufacturer catalogs and product images already uploaded on each supplier page.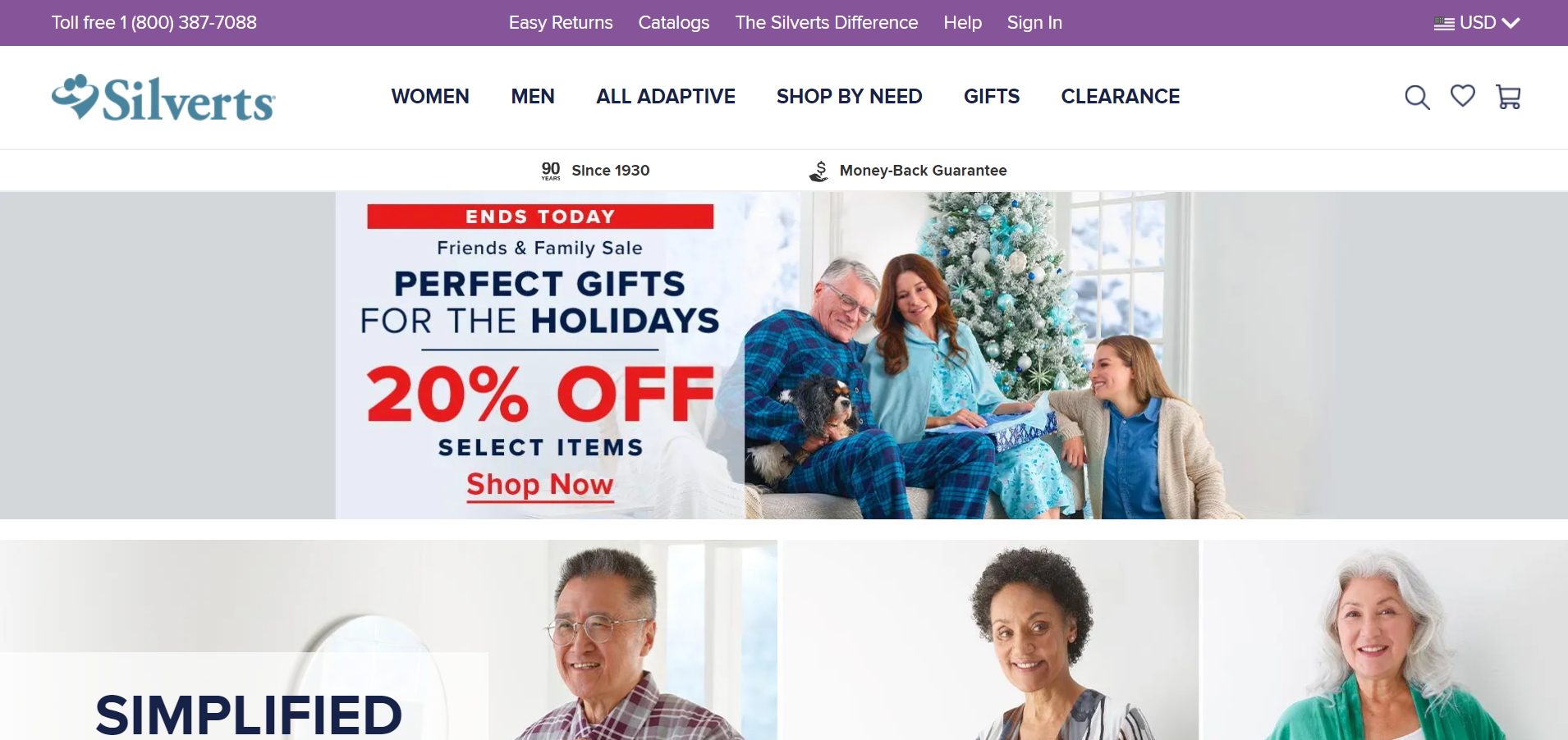 9. Silverts
Silverts is a dropship supplier specializing in fashion products for seniors and those with disabilities. With over 25,000 items to choose from in their catalog, you'll be able to find the perfect product for your online store quickly and easily. In addition, they offer dropshippers free shipping on orders above $100, as well as automatic order tracking so you can keep an eye on your products at all times.
In addition, you'll be able to find detailed product descriptions and images that can easily be added to your store. Plus, they offer a no-minimum order policy, so you don't have to worry about stocking up on inventory before you start selling.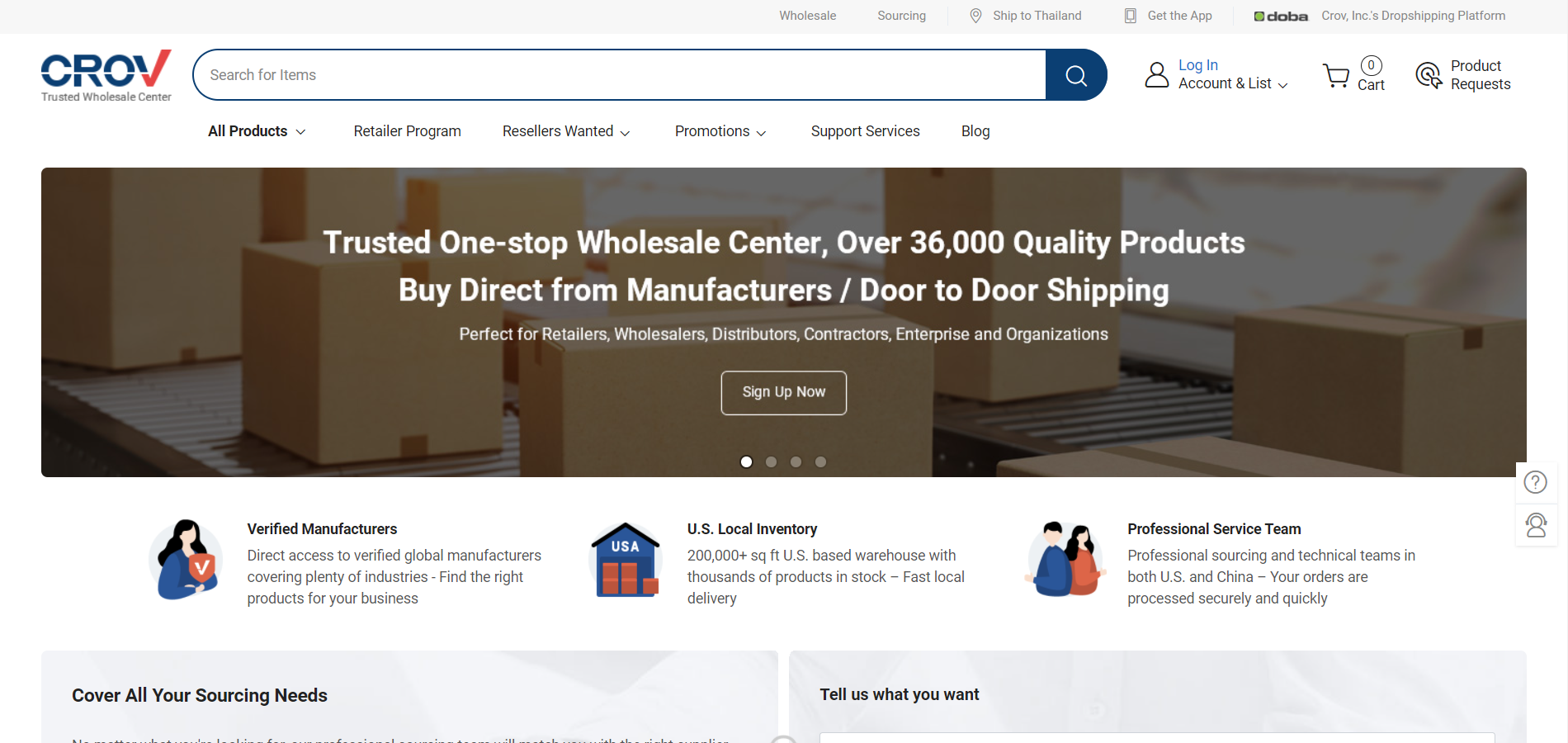 10. Crovu
Crovu is a dropship supplier that offers dropshippers access to over 36,000 products in various categories such as home décor, fashion accessories and apparel, toys and games, health and beauty items, and more. You'll be able to find everything you need for your online store on their website, from unique products to trendy items.
If you're unsure which product is right for you, Crovu allows you to submit a sourcing request to be matched with the right products and suppliers by a specialist. Once you've found the right product, you'll be able to open one store, add up to 500 product listings, and have 500 product downloads, all on their free plan!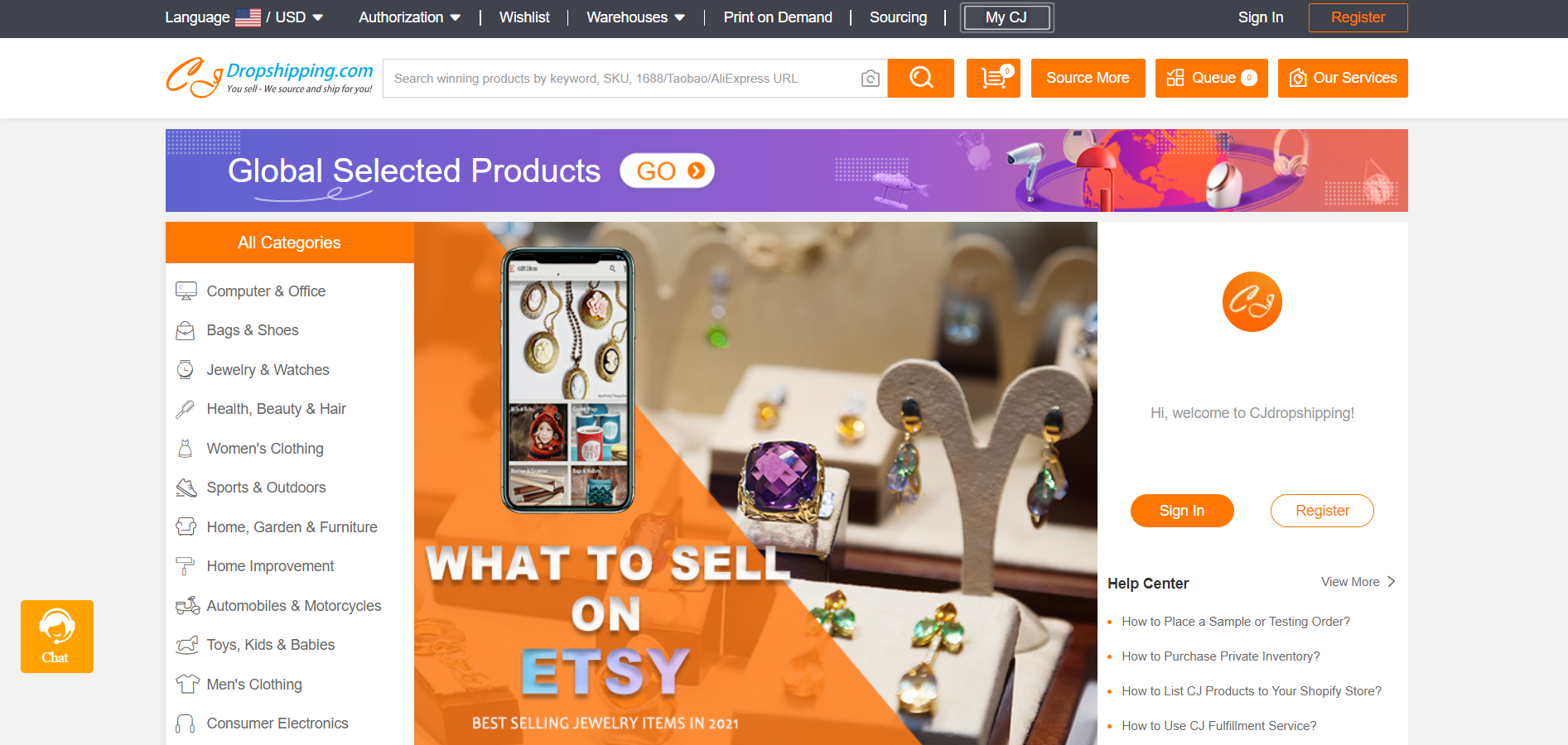 11. CJdropshipping
CJdropshipping is a dropship supplier that offers over 7,000 products in various categories. If you're not sure where to find a specific product or supplier, you can always submit a sourcing request and let a team member find the right match for you.
While there aren't any fees that you'll need to pay upfront, you may notice a higher shipping and product price because they build their services into those prices. However, dropshippers will be able to sell their products at a lower price than competitors because they won't need to pay for additional services.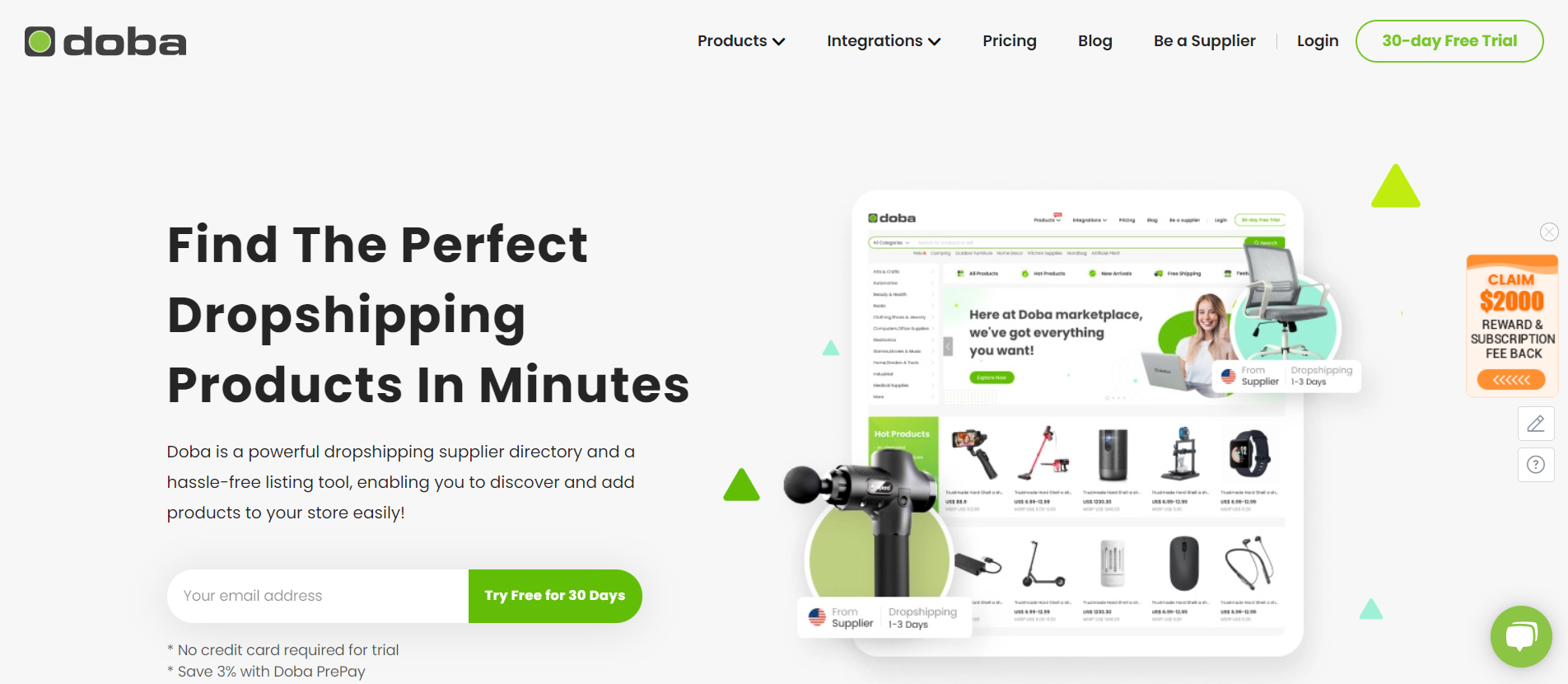 12. Doba
Doba is a great place to find suitable suppliers. With millions of products to choose from, you'll be able to find the perfect product for your online store quickly and easily. Plus, they offer dropshippers a free trial for 30 days, so you can test out their services before committing to a long-term package.
Conclusion
When looking for the best dropship companies, it's essential to consider all of your options. These top 12 suppliers are great places to start, but make sure you do your research before choosing the right supplier for your needs. With so many products and categories available, you'll be able to find what you need quickly and easily to create the most successful dropshipping business.
If you have just created a business page on Google My Business or Trustpilot or any other platform and don't have any reviews yet, and you want to have amazing reviews on all of them - you can use Reputon Customer Reviews app that would do just that - send follow-up emails to your customers when they receive orders and ask to leave a review on one of the predefined platforms (you can add as many as you want!) - boosting your rating on all platforms at the same time.