Efavormart
Before installing the Reputon app this Shopify store had terrible reviews on Trustpilot (see the screenshot). Efavormart had a large number of orders and all buyers who didn't like something about their product just went to the first Google link on "Efavormart reviews" and submitted their negative feedback. There were a lot of happy buyers as well, but such customers don't usually leave any feedback if they are not asked. There was no one on the Efavormart side to monitor and resolve complaints and the bad reviews just kept aggregating. Of course such scenario has an impact both on SEO and sales.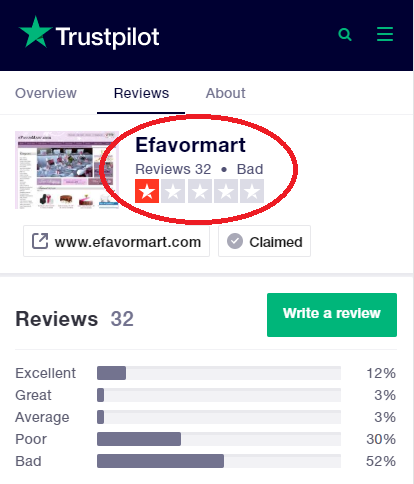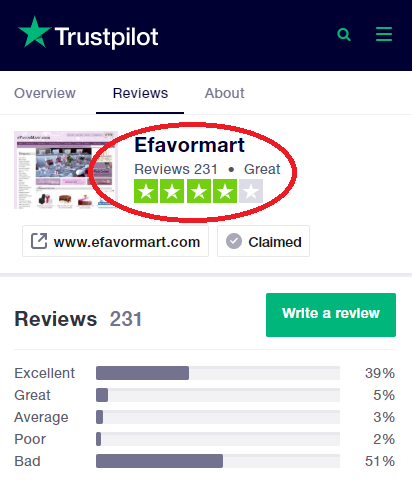 Once the Reputon had been installed the situation started to rectify. After receiving their items customers shortly received the followup email asking for the feedback. Majority of unsatisfied buyers just clicked one-star link in email instead of browsing for a public Efavormart reviews. That one star in email redirected them to an internal Reputon review form which they filled in. The data from the form came directly to the customer support rep who eventually resolved the conflict. At the same time happy customers clicked 5 stars and got a chance to submit the Trustpilot review to show their feedback publicly.
After just 45 days since Reputon installation, as of 7/14/2019, Efavormart was raised from Bad (32 reviews) to Great (231) reviews on Trustpilot. All organic, honest reviews, made by real clients with no extra efforts from store owners. Incredible review growth raised the credibility of Efavormart store and improved its SEO.