How to get products using Shopify product scraper for FREE?
To get products using the Shopify product scraper for FREE, follow these steps:
Identify the Shopify stores that offer products similar to what you sell or complement your existing inventory.
Enter the URL of the store you want to import products from.
Click the "Find" button to import products. The tool will automatically extract all the essential product details, including titles, descriptions, images, and pricing.
Once it's extracted, click on "Save CSV" to save the file.
Repeat the process for other Shopify stores and keep adding new products to your inventory.
NOTE: You can scrape and save up to 10 Shopify products. If you need more - contact us.
It's important to note that when importing products from other stores, you should always check that the products are not copyrighted or restricted by the store's policies. Also, ensure that the product descriptions and images accurately represent the products you are importing to avoid any customer disputes or misrepresentation claims.
What is Shopify product scraper?
Our professional-grade Shopify Product scraper is perfect for anyone looking to quickly and easily expand their product offerings.
With our scraper, you can quickly and easily expand your product offerings and save time on manual data entry. Just enter the URL of the Shopify store you want to pull products from, and our scraper will automatically grab all the product information, including titles, descriptions, images, and pricing.
Our Shopify product scraper is the perfect FREE solution for online retailers who want to expand their product offerings and stay ahead of the competition. Whether you're a startup or a seasoned ecommerce business, our tool can help you save time, cut costs, and grow your sales.
You don't need any technical knowledge to get started, and our scraper is compatible with all major browsers and devices.
Try our Shopify product scraper for FREE today and experience the benefits for yourself. Our tool is trusted by thousands of ecommerce businesses, and our team is dedicated to providing you with the highest quality service and support. With our Shopify product importer, you can focus on what matters most - growing your business.
How to use imported Shopify products  .CSV file?
Step 1.
Go to your Shopify store -> Click on "Products" -> Click on "Import"

Step 2.
Select your imported .CSV file with products and click on "Upload and continue"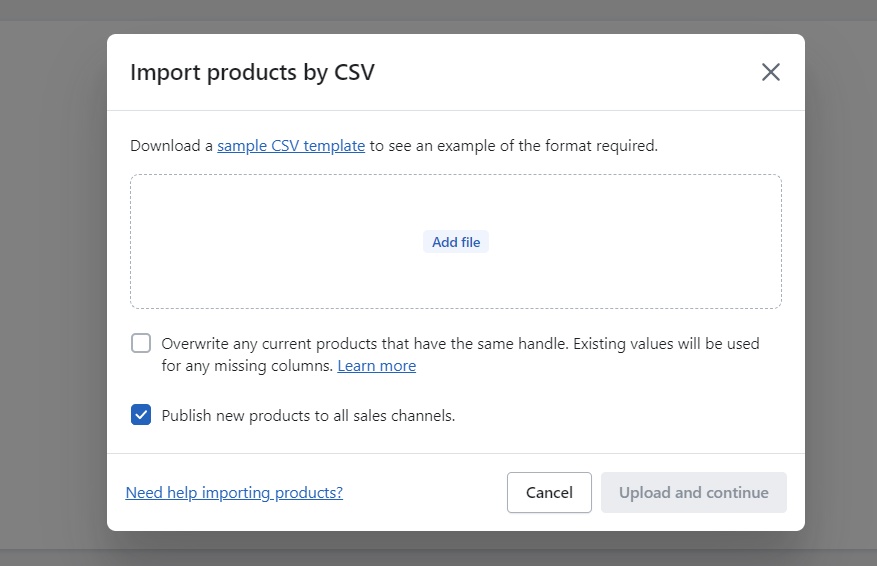 Step 3.
Your products are imported. You can edit title, description, price etc.