The Shopify Partner Program is a program that offers benefits to entrepreneurs, marketers, photographers, developers, and more. For example, entrepreneurs have the opportunity to earn money by suggesting Shopify to others or designing themes and apps.
Marketers can use affiliate links on their websites to obtain credit for leads generated from their websites. This blog post will discuss what it takes to be a partner and how you can start your own partnership today!
What Is Shopify?
Shopify is software that provides entrepreneurs with the opportunity to sell their products online, whether physical or digital. Shopify gives you the tools to build your store and manage it from start to finish! In addition, Shopify makes accepting credit cards extremely simple for those just starting as business owners.
Who Can Be A Shopify Partner?
You can register for the Shopify Partner Program as a freelancer, marketer, photographer, developer, coder, designer, or influencer. You will need to bind a formal contract with Shopify and be subject to annual reviews. Once you have been accepted into the Shopify Partner Program, many benefits come with your status.
The Benefits Of The "Shopify Partner Program"
There are many benefits with the program that are not available to the average Shopify user. Some of the benefits of the Shopify Partner Program depends on your role:
Marketer
For marketers, you can use affiliate links on your website to obtain credit for leads generated from your website. You will receive a certain percentage of Shopify's revenue when someone purchases through one of your affiliates. In addition, for every sale made by an affiliate link on your site, Shopify gives a 15% commission back to the marketer that provided the link.
Shop Owner
For shop owners, you can refer people to use Shopify and earn free credit for yourself or your friends! All they need to do is sign up using a referral link from you or one of your friends.
Photographer Or Developer
For photographers and developers, you can make money by submitting photos for Shopify's themes or coding apps that are compatible with Shopify to sell in the app store. When someone purchases a theme from your photo album on the Shopify Theme Store, you receive 20% of their payment!
Partner Academy
Shopify offers an academy for partners. The Shopify Partner Academy is a six-week online course covering all the essential topics to help you get started with your Shopify business. The academy includes app and theme creation, marketing strategies, customer support techniques, social media tips & tricks, selling on Facebook or Amazon Marketplace, and much more!
Perks and Discounts
Partners are eligible for exclusive perks and discounts. For example, Shopify partners have access to discounted workspaces, free shipping on all products, monthly webinars covering different topics, opportunities to connect with other entrepreneurs through Slack channels or at special events worldwide.
Resources For Partners
Shopify has many resources available to partners. Partners have access to a helpdesk and the Shopify app directory, where you can find themes and apps for your business. They also offer guides on how you can sell products or promote yourself as a partner.
Partner Support
Shopify partners can send messages to the Shopify Partner team at any time. The support team is there to help you with anything from technical issues, new feature suggestions, and bug reports for your apps or themes.
How To Create a Partner Account
To be eligible for the Shopify partner program, you need to create an account on the Shopify partner page. Once your application is submitted and reviewed by Shopify representatives, they will send you a confirmation email letting you know if you have been accepted or rejected. These are the steps to create a Partner Account.
1. Access Website for Partner Program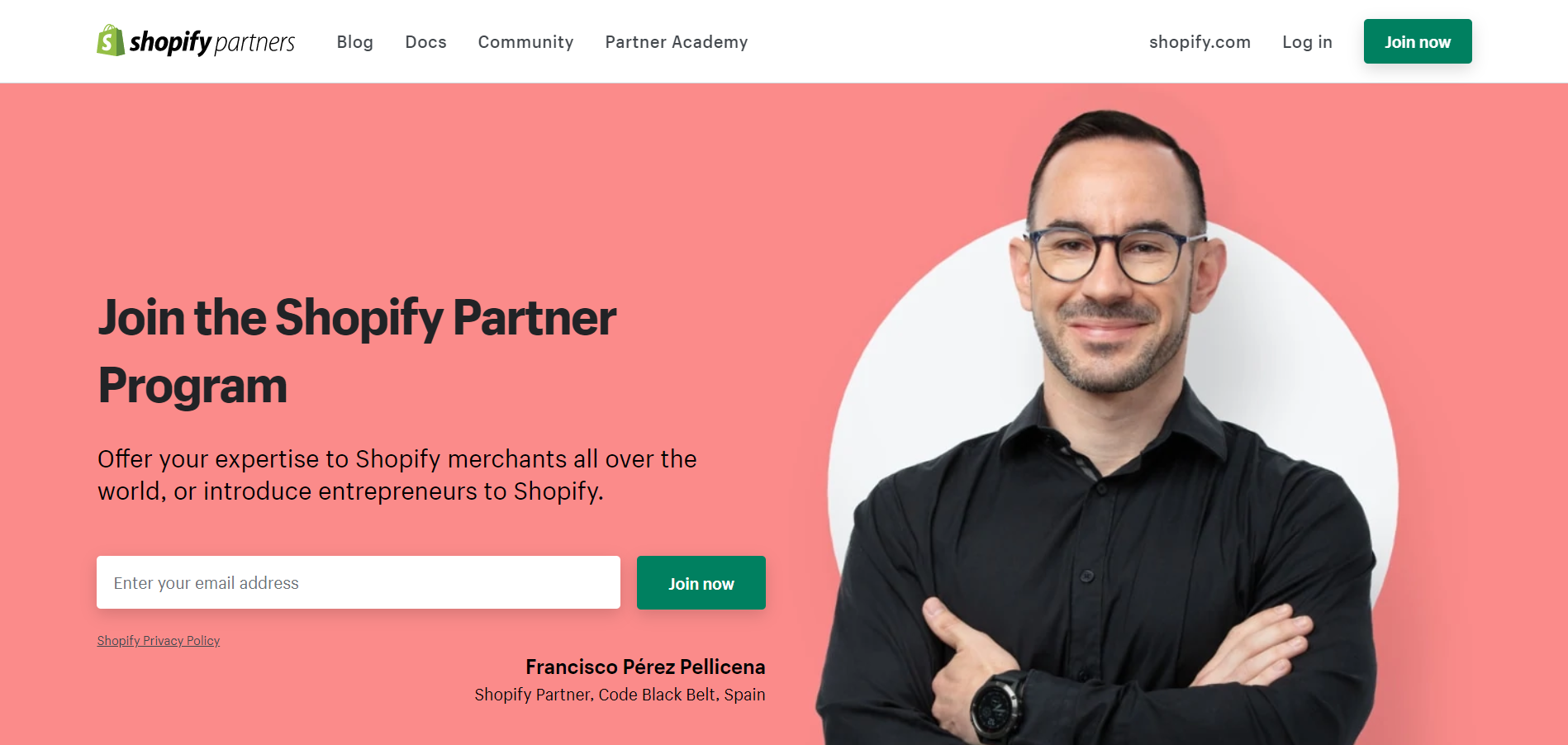 2. Enter Your Email and Click "Join Now"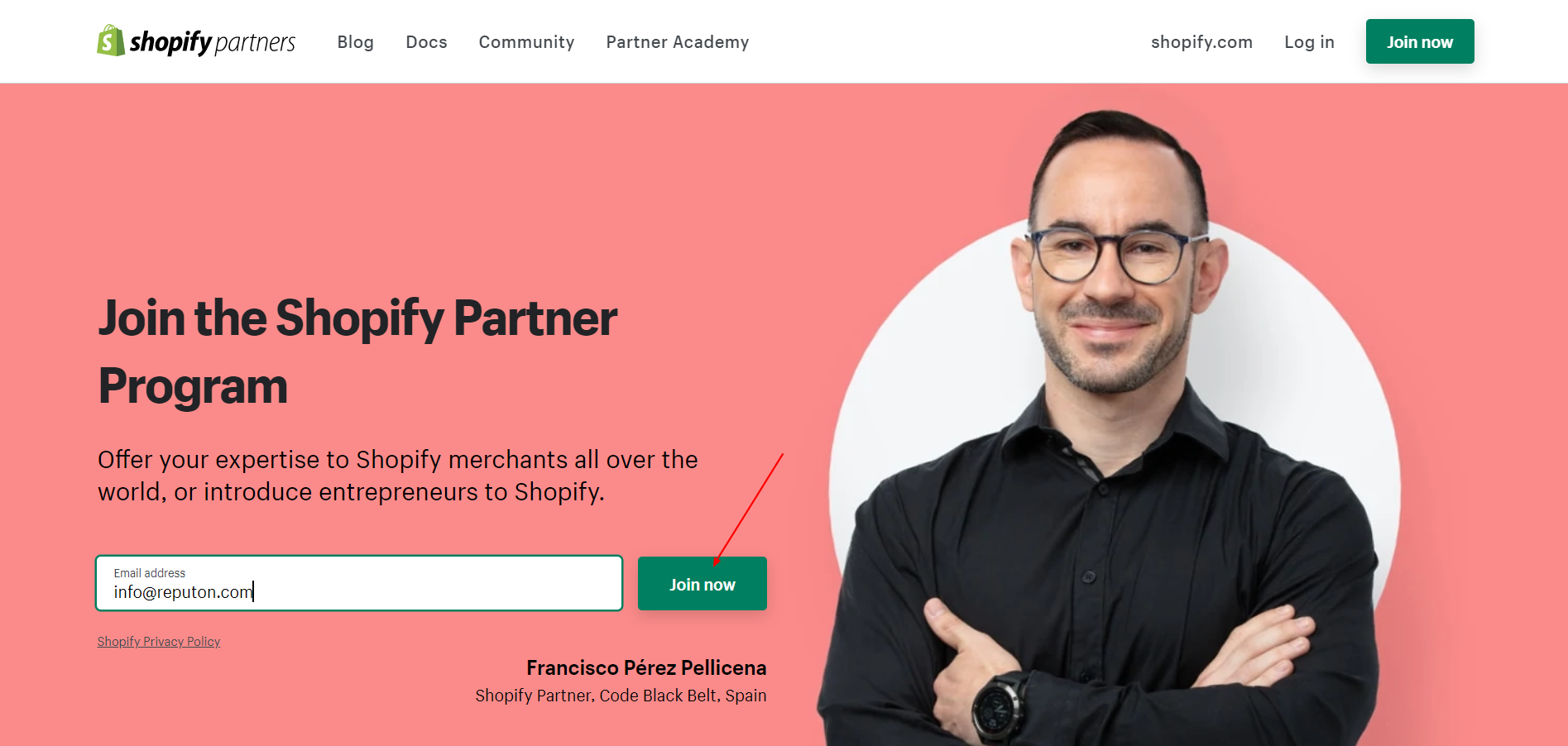 3. Provide account information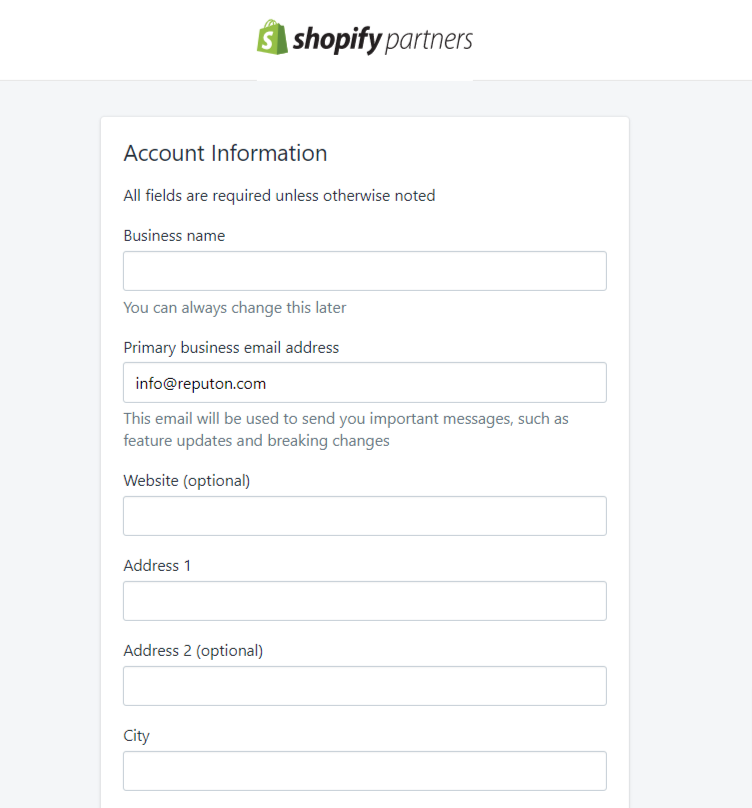 4. Fill Out All Details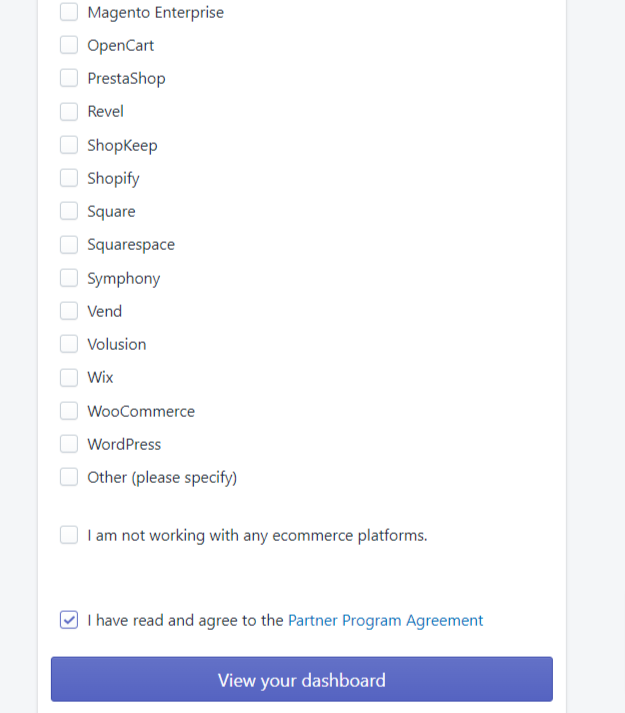 5. Familiarize Yourself With The Dashboard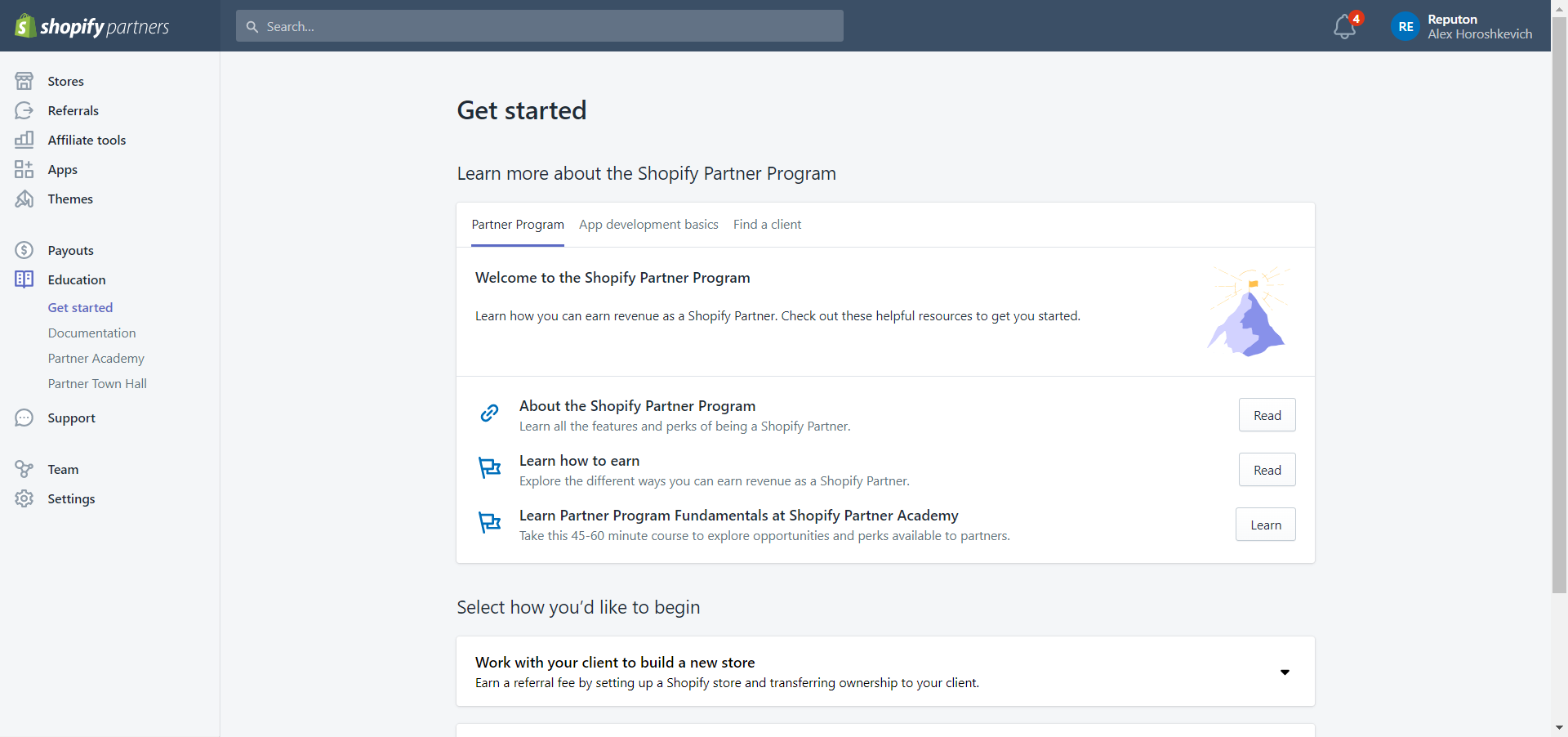 How Much Can A Shopify Partner Earn?
Most Shopify partners earn money through referrals. The more people you refer to the platform, and the more they spend on their accounts, the larger your commission will be. There is also a yearly fee for being in partnership with Shopify. This fee is $100 but can be waived if you refer at least five new accounts for Shopify within the year.
How To Get Started As A Shopify Partner
If you want to get started with the Shopify Partner Program, there are a few things that you should know and do before diving in. The first thing is to familiarize yourself with all of the resources available for partners. This includes videos on how apps and themes work, webinars where Shopify experts discuss different topics, guides on how to market your Shopify business, and much more!
You should also make sure that you create the best products possible. This includes apps or themes for Shopify's platform. You may want to take a look at their app directory before starting anything yourself; checking out other stores will give you an idea of what is already available and where improvements can be made.
You will also want to create a unique Shopify Partner Program website before promoting it. This site should be professional and informative so that you can quickly answer any questions or doubts your visitors may have about the program. In addition, you should include testimonials from previous customers and information on how much money partners can expect to make per referral.
Are there better affiliate programs?
Participate in Reputon Affiliate program, refer traffic or install apps and receive stable recurring monthly payouts for your installations, traffic, or referrals!
Reputon's partner program perks:
Up to 50% recurring commission;
Multiple apps in a portfolio with an average rating 4.8/5;
All referred users get 10% discount for the Customer Reviews app and an extended 21-day trial for all other apps
Personal dashboard and reports;
No minimum payout amount;
Flexible payment method - PayPal, Payoneer, you name it
Conclusion
Shopify partners can make money by suggesting Shopify to others, designing themes and apps for the platform, or posting affiliate links on their website. In addition, partners are eligible for exclusive perks and discounts. The support team is there to help you with anything from technical issues, new feature suggestions, and bug reports for your apps or themes.
Shopify has resources available such as guides on how to market your Shopify business. Before signing up, you should familiarize yourself with the resources available for partners and create a unique partner website to promote your business. If you're ready to be a partner, you need to create an account and follow the steps in this blog post.
If you have just created a business page on Google My Business or Trustpilot or any other platform and don't have any reviews yet, and you want to have amazing reviews on all of them - you can use Reputon Customer Reviews app that would do just that - send follow-up emails to your customers when they receive orders and ask to leave a review on one of the predefined platforms (you can add as many as you want!) - boosting your rating on all platforms at the same time.